Willkommen | Welcome
News
S T O P W A R ! in Arbeit für mein 2015/2016 entwickeltes Ausstellungskonzept HOME | LESS HOME | HOMELESS über Migration und Krieg | work in progress for my exhibition concept HOME | LESS HOME | HOMELESS about migration and war developed in 2015/2016.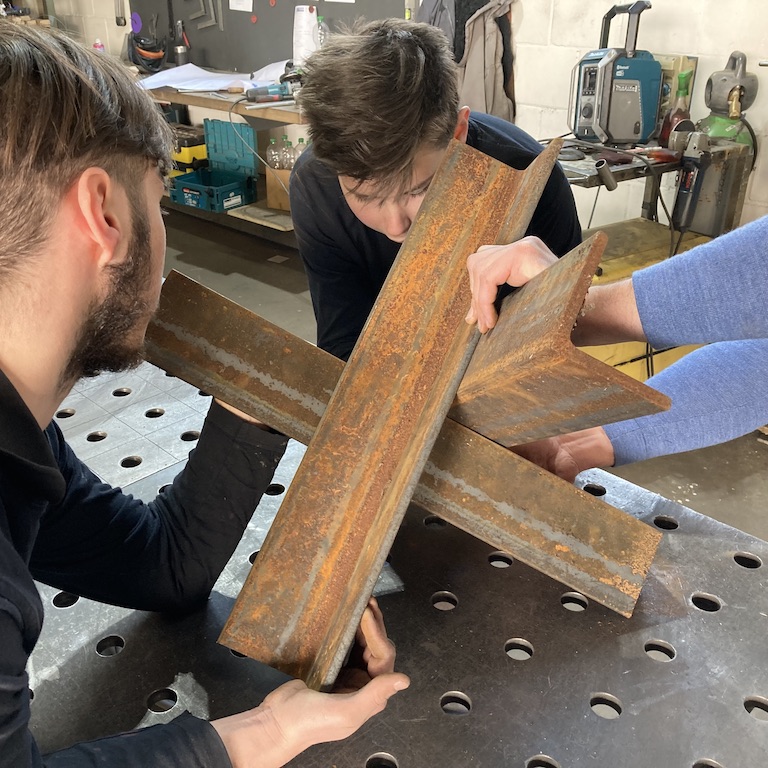 Bitte beachten | Please note
Diese Seite wird gerade neu erstellt.
Wenn Sie sich in der Zwischenzeit über meine künstlerische Arbeit informieren wollen, finden Sie unten einen Auszug meiner Werke. Alternativ klicken Sie hier auf CKCK, die Website meiner Künstlerinnengruppe, oder auf die Social Media Buttons. Bei Interesse an meinem Portfolio schicken Sie mir bitte eine E-Mail. Ich freue mich, von Ihnen zu hören.
This website is currently under construction.
If you want to read about my art work in the meantime, you can find an excerpt of my works below. Alternatively, click CKCK, the website of my artist group, or the social media buttons. If you are interested in my portfolio, drop me a mail. I look forward to hearing from you.
Arbeit | work
Claudia Grom lebt und arbeitet als Mixed Media und Bildende Künstlerin in Deutschland und auf Reisen. Schwerpunkt ihrer Arbeit sind zeitgenössische Themen und Strömungen, denen sie sich durch kritische Hinterfragung und weitreichende Recherchen wie z.B. in ihrem Langzeit-Kunstprojekt HUMAN PERSPECTIVES annähert. Ihre Herangehensweise ist u.a. durch Cramerottis Ästhetischen Journalismus inspiriert. Ihre Werke entstehen überwiegend in Form von Projekten, die sie als ganze Ausstellungskonzepte weiterentwickelt. Materialwahl und Gestaltung sind im Herstellungsprozess vollkommen frei und werden erst durch das jeweilige Thema bestimmt.
Claudia Grom lives and works as a mixed media and visual artist in Germany and on the road. The focus of her work is on contemporary themes and movements, which she approaches through critical questioning and far-reaching research, as in her long-term art project HUMAN PERSPECTIVES. Her approach is inspired by Cramerotti's Aesthetic Journalism, among others. Her works are predominantly created in the form of projects, which she develops further as entire exhibition concepts. The choice of materials and design are completely free in the production process and are only determined by the respective theme.
Vorschau | Preview
Die Galerie zeigt nur Bildausschnitte einiger meiner Werke. | The gallery shows only image excerpts of some of my works.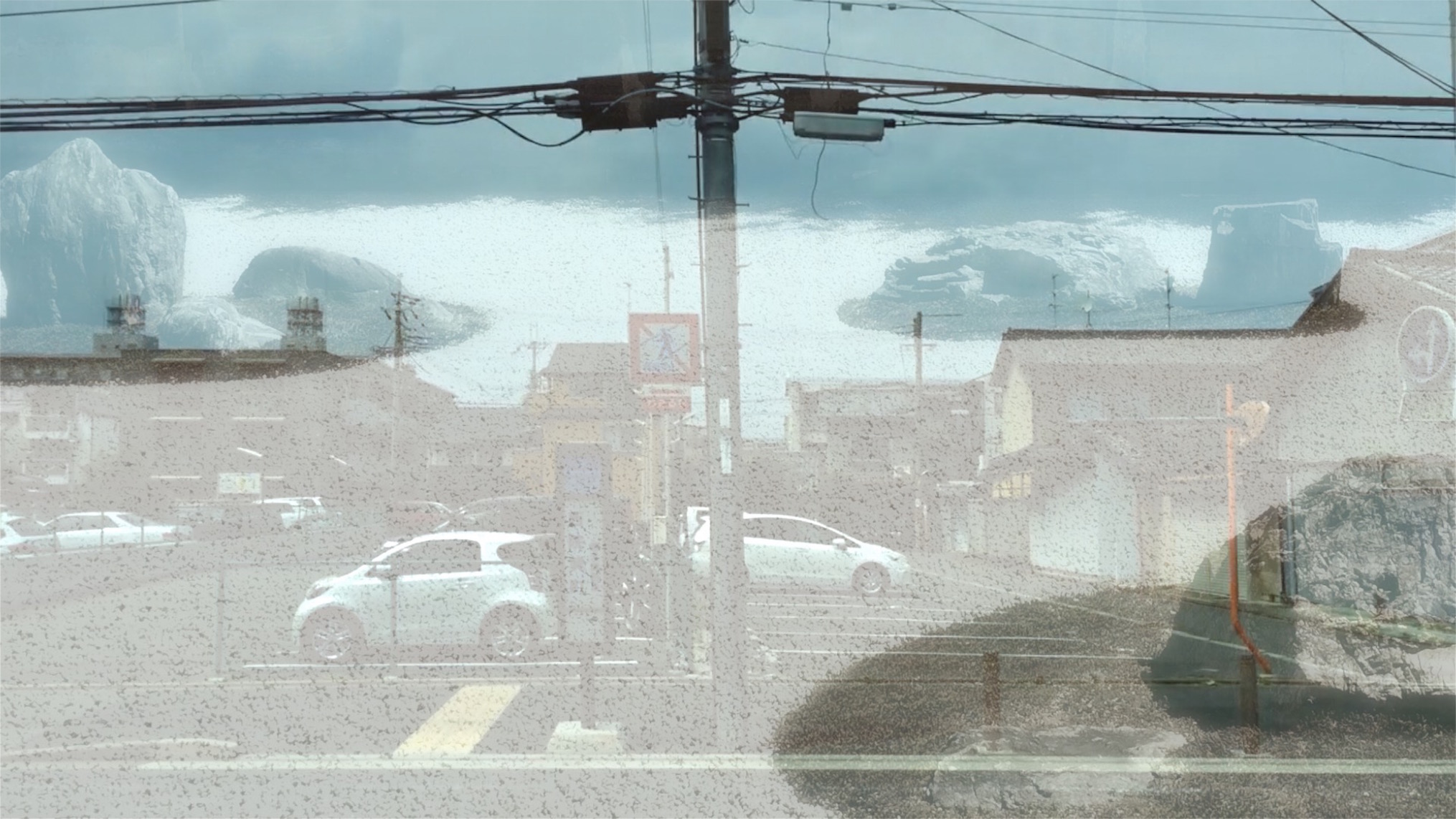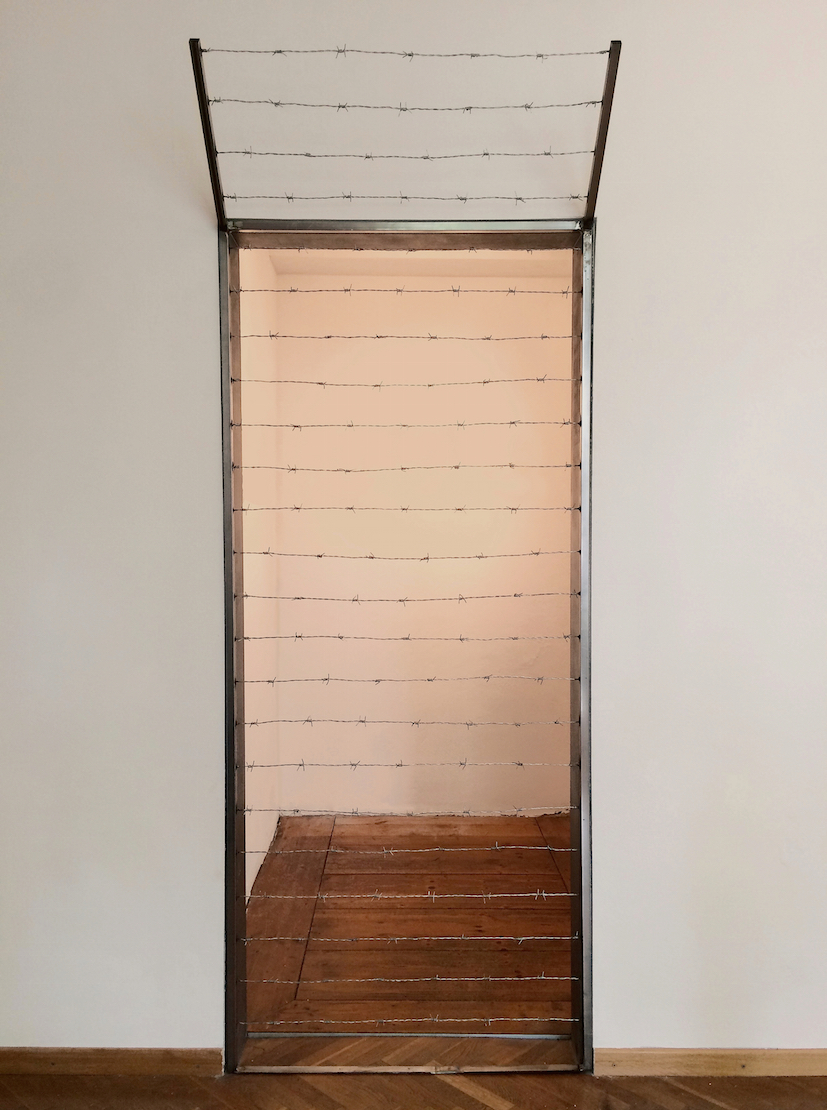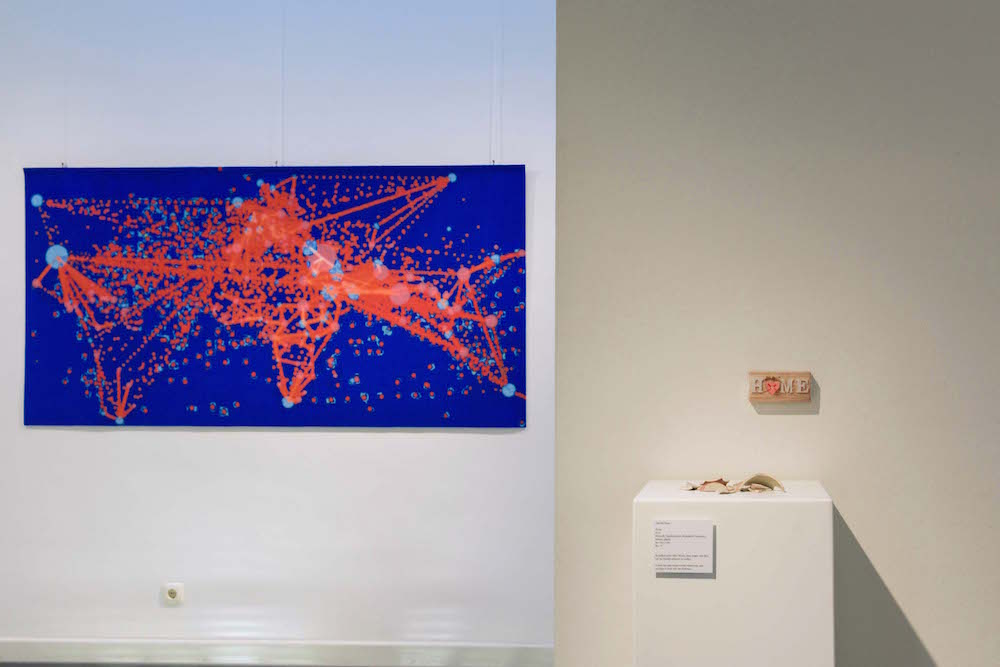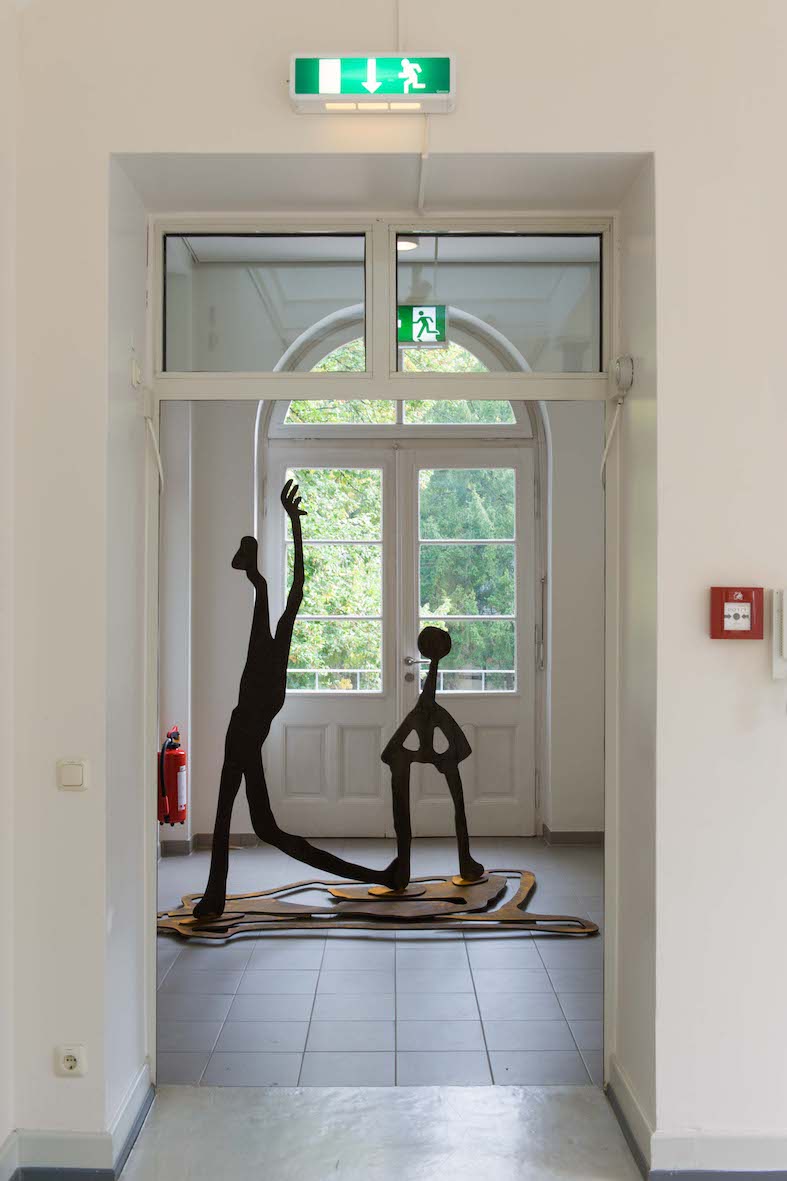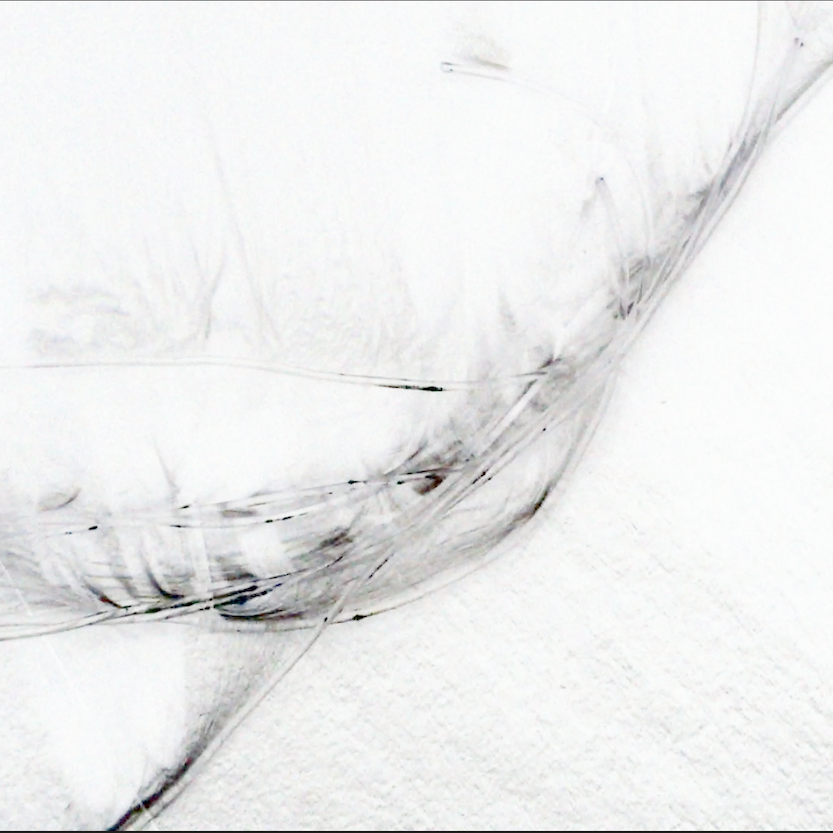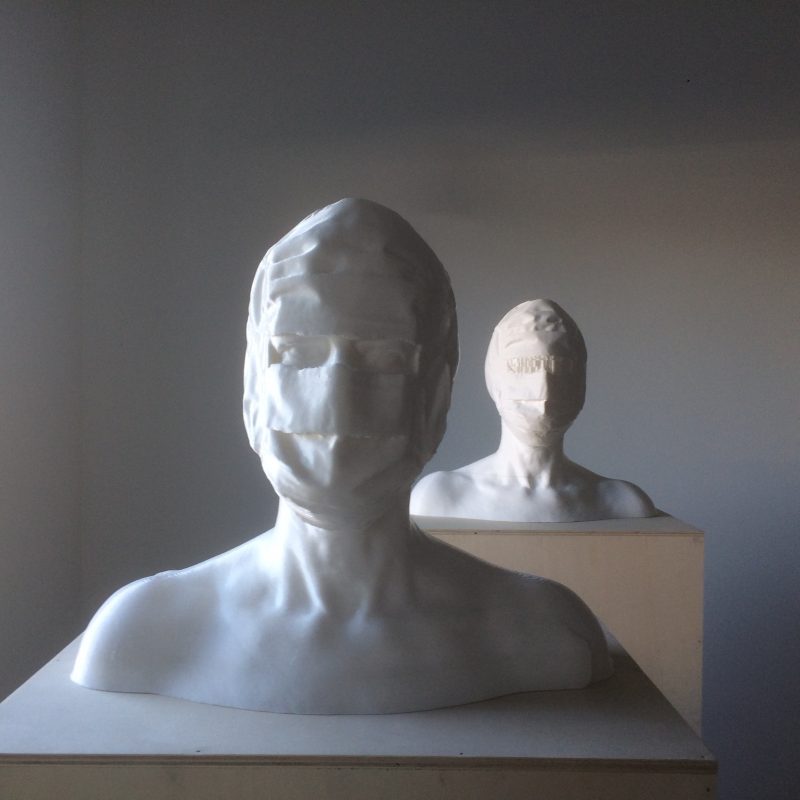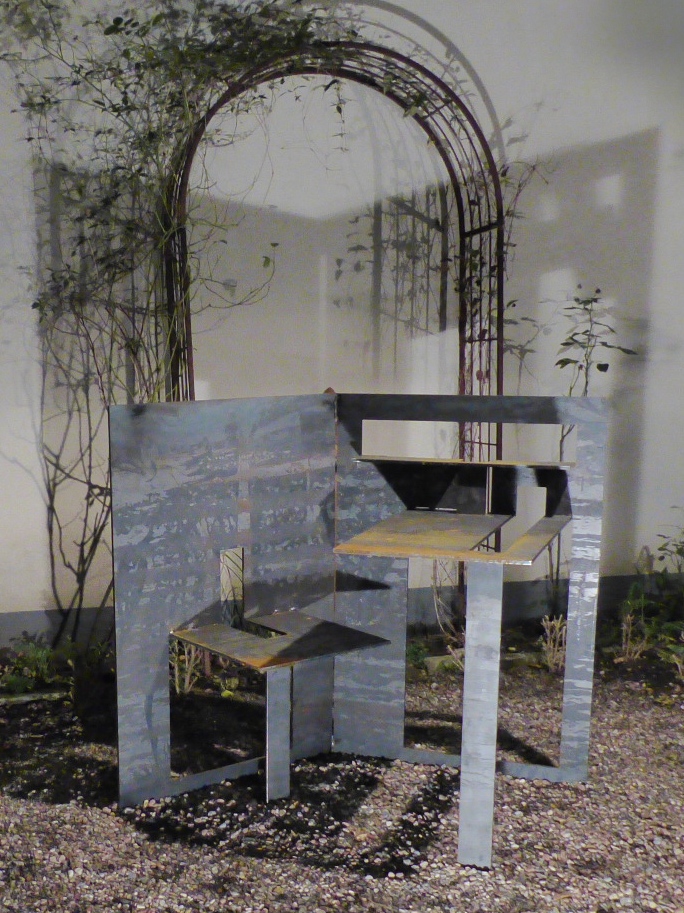 HUMAN PERSPECTIVES
HUMAN PERSPECTIVES ist ein langfristig angelegtes, interaktives Kunstprojekt, das auf Auslandsreisen und in Deutschland entsteht. Es setzt sich bisher aus drei Teilen zusammen, die jeweils als eigenständiges Ausstellungskonzept gezeigt werden können. Zeiten tiefgreifender gesellschaftlicher Veränderungen führen weltweit zu sozialen Auseinandersetzungen. Ob Klimawandel, knapper werdende Ressourcen Digitalisierung, Migration, Terror oder kriegerische Konflikte, immer zieht die Globalisierung die Frage nach einer gerechteren Welt nach sich. Unter Berücksichtigung kultureller Selbstverständnisse und Traditionen stehen Politik, Wirtschaft und Gesellschaft vor gewaltigen Herausforderungen, die ich in meiner Funktion als Künstlerin zur Diskussion stelle. Rolle und Selbstverständnis des Menschen innerhalb dieser weitreichenden Transformationsprozesse rücken dabei zunehmend in den Mittelpunkt.
Rucksack ist eine Arbeit, die ich 2016 anlässlich der Ausstellung the artist is not present in der Galerie Uhn in Königstein installiert hatte. Sie bildete den Auftakt von HUMAN PERSPECTIVES. Seit Ausbruch der Sars-COVID-19 Pandemie sind meine Reiserecherchen phasenweise nicht mehr oder nur bedingt möglich. Unterwegs sein, unbekannte Kulturen entdecken sowie intensive Begegnungen mit Menschen jeglicher Couleur, bildeten in den letzten Jahren die Grundlage meiner künstlerischen Arbeit. Rucksack ist für mich ein Symbol der vergleichsweise uneingeschränkten Freiheit und vor allem Gastfreundschaft, die ich als reisende Künstlerin genießen durfte.
HUMAN PERSPECTIVES is a long-term, interactive art project that is being created while traveling abroad and in Germany. So far, it is composed of three parts, each of which can be shown as an independent exhibition concept. Times of profound social change lead to social conflicts worldwide. Whether climate change, dwindling resources, digitalization, migration, terror or armed conflicts, globalization always raises the question of a fairer world. Taking into account cultural self-understandings and traditions, politics, economy and society are facing enormous challenges, which I put up for discussion in my function as an artist. The role and self-image of human beings within these far-reaching transformation processes are increasingly coming into focus.
Rucksack is a work that I installed in 2016 on the occasion of the exhibition the artist is not present at Galerie Uhn in Königstein. It formed the prelude to HUMAN PERSPECTIVES. Since the outbreak of the Sars-COVID-19 pandemic, my travel research has at times been impossible or only possible to a limited extent. Being on the road, discovering unknown cultures as well as intensive encounters with people of all colors, formed the basis of my artistic work in recent years. Rucksack is for me a symbol of comparatively unrestricted freedom and above all hospitality, which I was allowed to enjoy as a traveling artist.
Für Claudia Grom gehört zum Handswerkszeug einer Künstlerin, aus ungewöhnlichen Perspektiven das vermeintlich Vertraute neu zu entdecken. Über den anderen, nicht alltäglichen Weg, sich einer neuen Umgebung zu nähern oder einer, die man aus der Vergangenheit zu kennen glaubt.
Sie hat sich auf diesen Weg gemacht, ist beruflich auf Entdeckungsreise, von wo aus sie Wand-Teppiche entwickelt und für ihre ortsspezifischen Installationen so unterschiedliche Materialien wie Rettungsfolie und Stacheldraht nutzt, um Themen wie Heimat, Heimatlosigkeit und Fremde zu bearbeiten. Besonders stark scheinen mir ihre Arbeiten da, wo sie fast beiläufig auftauchen, wie das unbeachtete Gepäckstück, an dem Sie womöglich schon achtlos vorbei gegangen sind.
For Claudia Grom, one of the tools of an artist is to rediscover the supposedly familiar from unusual perspectives. Through the other, not everyday way, to approach a new environment or one that you think you know from the past.
She has taken this path, is professionally on a journey of discovery, from where she develops tapestries and uses materials as diverse as rescue foil and barbed wire for her site-specific installations to address themes of home, homelessness, and foreignness. Her works seem particularly powerful to me where they appear almost casually, like the unnoticed piece of luggage you may have already carelessly walked past.
Vroni Schwegler, In the Face of Everything | Jetzt erst recht, 2017
Newsletter
Mein Newsletter erscheint in unregelmäßigen Abständen.
Wenn Sie Interesse haben, schicken Sie mir bitte eine E-Mail mit Ihren Kontaktdaten. Ich respektiere Ihre Privatsphäre und gebe Ihre Daten nicht an Dritte weiter.
My newsletter will be published sporadicly. If you are interested, please send an email with your contact details. I respect your privacy and will not share your trusted information with anyone at any time.